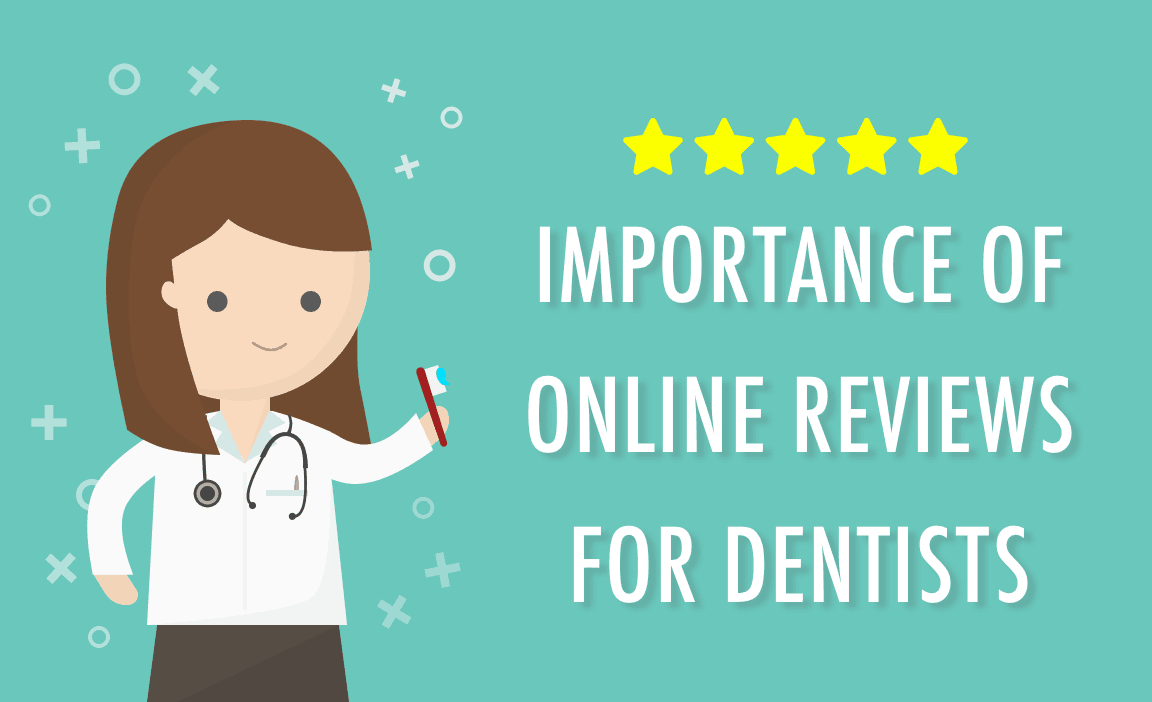 Importance of reviews for dentists
It's now a universal truth that your presence online is as critical to your business as the goods or services you provide. Few things in the modern world are as important to businesses as online reviews. People not only seek out reviews, but they also seek them out in multiple venues, read them—and they take them seriously. Too many negative reviews could hurt your business in ways you might not fully appreciate it.
Think about it. Most people have access to the internet, whether on their computer, their smartphone or tablet or even on their gaming consoles. People expect quality and convenience, and no one likes to operate in the dark. Before settling on which business to use, most people scour the internet in search of reviews to inform them on which option is the better choice. Online reviews for dentists have become word of mouth in the twenty-first century. It's important to never lose sight of this.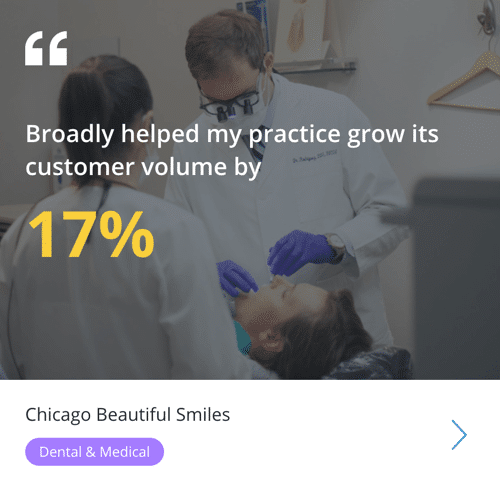 Online reviews for dentists infographic

Effects reviews have on your dental practice
People take reviews seriously. People trust reviews online—even from strangers—as much as they trust recommendations from people they know. Eighty-four percent, in fact, put such trust in online reviews. The days of knowing and gauging a person are over. Now, starred reviews on the internet can make all the difference. Reviews alone won't suffice, nor will an overabundance of reviews if many of them are low rated. Good reviews are key. Eighty-seven percent of people won't even consider using a business if it doesn't have an aggregate of three to five-star reviews.
Let's break this down so you can better understand the effect, and the importance, of positive online reviews. Let's say you're hungry, but you can't decide on which restaurant to visit. Two new diners have opened in town recently, but you don't know anyone who've tried them. Do you flip a coin and hope for the best? Or do you jump online and seek out reviews? If you're like most people these days, you open a search engine in your browser and start reading.
Of the two new diners, one has fifteen five-star reviews, and the other has nine two stars reviews. What is your reaction to these findings? Do you buck the trend and try the diner with lesser reviews or do you view it with skepticism, assuming so many low rated reviews from strangers might indicate larger problems. It's possible that you've done something similar in regards to a restaurant, business, or even a book or movie. And you wouldn't be alone.
Online reviews help inform people these days. They can turn you on to a new experience, or they can warn you to avoid an unpleasant one. If you've ever responded to online reviews, if you've ever allowed them to inform your opinions, then you shouldn't assume you're alone. As a dentist or an administrator running a dental practice, you absolutely shouldn't assume that your patients and potential patients are somehow exceptions to the rule.
How to get more reviews for your dentist office
See what Broadly can do for your business in just 30 days
Getting reviews is only tricky if you overthink it—or if you bank on statistics. The latter might make sense. If you service enough patients, this line of reasoning goes. Certainly, some will feel compelled to leave a review. Chance alone, however, might yield reviews in the single percentile. Or they might not yield any reviews at all.
It might sound too simple or obvious, but the best way to get more online reviews is to ask for them. Believe it or not, asking works. Seventy percent of people will leave reviews if you ask them. It's astonishing to think it's that simple, but by all indications, it is indeed that simple. If you do ask for reviews, never ask for positive reviews—and don't attempt to dissuade people from leaving negative reviews. Simply ask for honest reviews.
Although you can't control the tone or tenor of a patient's review, you might be able to influence it—at least to a degree—in how you ask them for a review. If you've just extracted a tooth from a grumpy man who mutters while you're cleaning up, it's probably a good idea to refrain asking him to chronicle his experience online. Instead, approach your patients when they're no longer nervous, upbeat, even happy. Since timing is crucial ask them when the appointment has concluded, while they're still experiencing positive emotions or sensations from your conduct—which was undoubtedly professional.
You can ask for reviews or feedbacks in the form of email newsletters, snail mail, or a suggestion or feedback box located in your office. When reviews of your dental practice appear online, read them and pay attention to what your patients said. Interact with your patients. If their reviews were positive, thank them and express humility. Display empathy and a willingness to address their problems or complaints if they wrote a negative review.
Check out more dental online review statistics.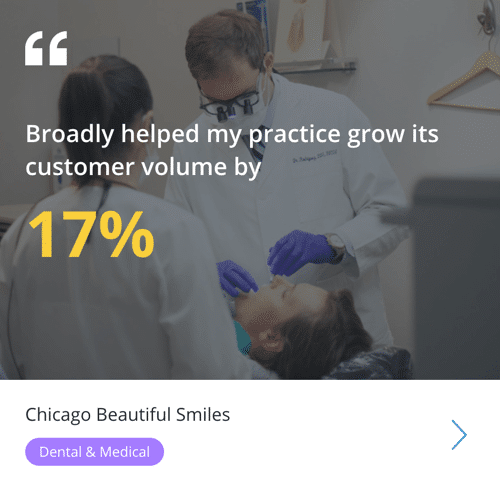 Most important review sites for dentists
Although a dental practice is a niche business, it's not without an online presence. You can utilize several dental websites to increase your exposure and monitor reviews.
Yelp! is one example. In fact, many dental practices seem to dismiss or underplay the importance of Yelp. As a site dedicating to providing reviews of businesses, it's an important venue you may overlook. In fact, fifty-one percent of all dentists allow their Yelp pages to go unclaimed. If you don't claim your Yelp reviews page, if you don't promote it, then you might lose out on crucial and important reviews from satisfied patients.
Google + is another important venue. It's a social media page combining the personal and friendly atmosphere of Facebook with the business sensibilities of LinkedIn. Like Facebook, people post reviews, compliments, and recommendations of businesses. It's populated by millions of people and could play an important role in your business. On G+, you can interact with patients more in-depth than on a page like Yelp. As with Yelp, forty-five percent of dental practices haven't claimed a Google review page. Imagine the patients and potential patients you could interact with if you joined Google's social network.
Facebook is the most visible and populated social media site on the internet. Millions of Americans visit it on a daily basis. They discuss nearly every facet of their lives on there, sharing details and events both large and small with their online friends. Praise and complaints of local businesses, including dentists, are posted and traded daily. These posts could shine a positive or negative light on your practice, either helping or hurting your reputation.
Check out these Dental blogs and forums to stay up to date on everything in the industry.

How to handle negative reviews
Despite your abilities, experience, and bedside manners, you're bound to deal with patients who won't have wonderful things to say about you or your practice. You can't please all the people all the time, as the cliché goes—and it's true. No matter how hard you try, no matter how professionally you behave, you'll inevitably encounter patients who you seemingly can't satisfy.
Some of them will take their complaints online. Although you should make it a point to thank people who leave positive reviews while appearing humble and expressing humility, you should also not ignore negative reviews. Even if you disagree with a negative review, even if it upsets you, you should approach it with an evenhandedness and a level head.
Personally, respond to each negative review. Express empathy by articulating that you understand their frustrations, complaints, and so on. Apologize. Reiterate the key points of their complaints to convey that you've weighed and considered the issues are troubling them. If possible, try to offer help or a way to correct or rectify the situation that upset them.
This personal touch could inspire people more than the slickest marketing campaign. Remember, people read reviews. Chances are, they'll also read your response to reviews. If you respond with empathy, sensitivity, and professionalism, it might change the minds of those who wrote the negative reviews. It could also inform the opinion of people casually reading the review and your response, winning you new admirers and possibly even patients in the process.
Don't pay lip service, however, Treat every negative review as a learning experience. If negative reviews inundate your practice across several social media sites, then you might consider seriously taking the central complaints to heart. Perhaps you're behaving in some way to alienate your patients. Perhaps your practice ushers people and in and out in cold and uninviting ways. In addition to addressing reviews online, you should set your ego or pride aside and try to listen to complaints and learn from them.

Conclusion
Dental marketing isn't simply dumping money into ad campaigns. It entails how you interact with your patients, how you inspire them, how you respond to their praise and criticisms. Creating an online presence on a variety of platforms could increase your exposure. Knowing how to handle and respond to review—both good and bad—could win you new patients and increase the loyalty of existing patients.
As we pointed out above, more than 8 in ten people trust online reviews and nearly 9 in ten won't consider a business with less than three to five-star reviews. How you operate your business and treat your patients isn't isolated to your office. It spreads outside, into the virtual and real worlds. The opinions people express about you, and your practice could increase your reputation and grow your clientele.
See what Broadly can do for your business in just 30 days